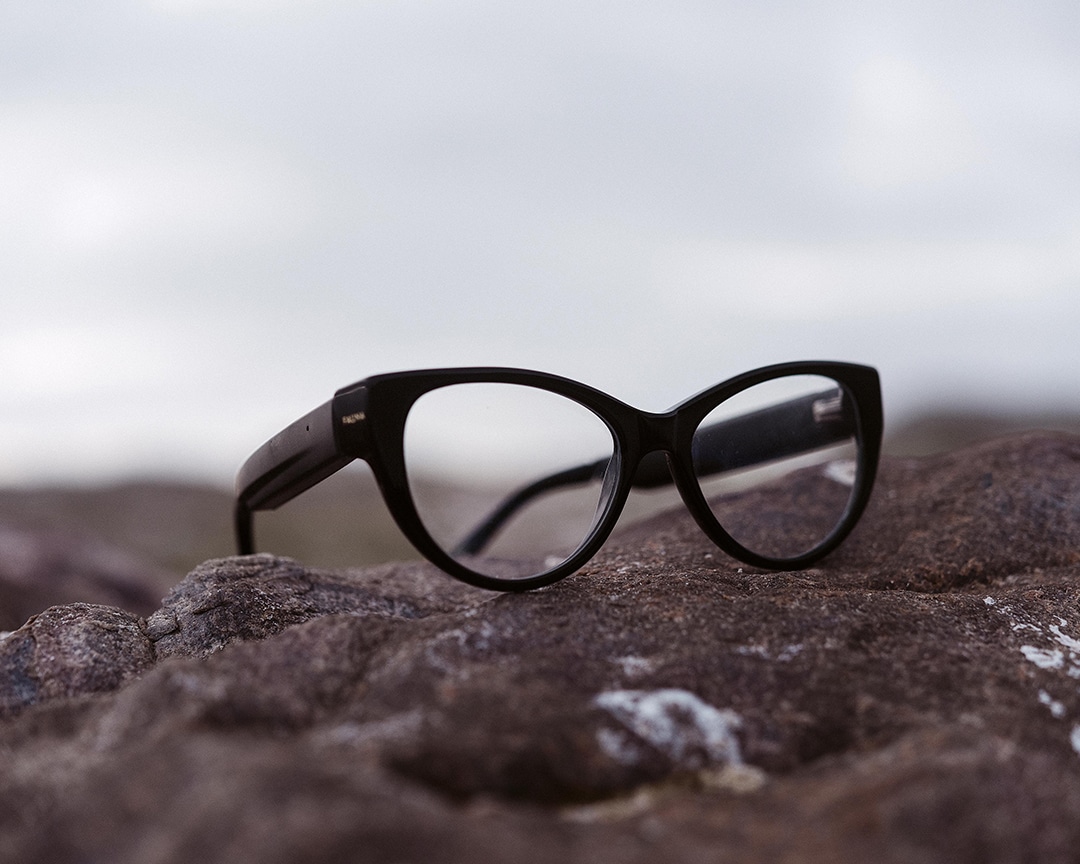 Published:
Fauna – glasses that let you listen

Fast-growing Austrian company Fauna is using technology from regional high-tech company AT&S for its audio glasses.
Leoben/Graz, January 28, 2021 – They look like glasses, but are capable of much more. The audio glasses "Fauna", from the Austrian startup Fauna (available at wearfauna.com), are not only a designer piece made of high-quality material, fashionable frame shapes and colors, but also a technological masterpiece: four integrated micro speakers and two microphones ensure that music, podcasts, audio books and even phone calls are comfortably possible via the glasses. The glasses are charged with a charging case that also doubles as a power bank.

"What makes Fauna so unique is the targeted sound," says Fauna CEO Ferruccio Bottoni. "The sound is precisely directed to the ear, so that only the wearer hears the audio output." Nevertheless, the wearer always hears what's going on around them, keeping them safe in traffic, for example. What makes the audio glasses special are technologies developed by two Austrian companies: The circuit board on which the micro-speakers are mounted is produced by the Styrian high-tech company AT&S – one of the
global market leaders in high-quality interconnection solutions. The architecture of this interconnect solution unlocks the loudspeaker's full potential. These micro speakers, Ganymede, are in turn developed by Graz-based audio company USound, which has over recent years built up and patented extensive technological know-how in the sound sector. AT&S circuit boards are integrated in multiple reference designs, audio modules and products that include USound's micro speaker models Ganymede or Conamara. "We have been working successfully with USound since 2015 and have provided them with technological support on their road to success from a small startup to a relevant sound company," says AT&S CEO Andreas
Gerstenmayer. "Working with young companies is very exciting from both perspectives. They can use innovative and proven technologies for mobile devices, and we in turn benefit from their drive and energy."
Fauna is simply connected to a smartphone or PC via Bluetooth, and the glasses are operated using touchpads on the temples. Bottoni is particularly proud of the design, "because the temples remain slim and therefore comfortable to wear despite the powerful electronics, thanks to the patented audio technology." Fauna currently comes in four models made of Italian acetate. Additionally, the standard lenses (blue light filters or sun lenses) that come with the glasses can be exchanged for prescription lenses. The glasses come with a handy charging case that allows them to be charged up to four times before the case itself needs to be recharged

AT & S Austria Technologie & Systemtechnik Aktiengesellschaft – First choice for advanced applications
AT&S is a leading manufacturer of high-end printed circuit boards and IC substrates. AT&S industrialises leading-edge technologies for its core business segments Mobile Devices & Substrates, Automotive, Industrial and Medical. AT&S has a global presence with production sites in Austria (Leoben, Fehring) and plants in India (Nanjangud), China (Shanghai, Chongqing) and Korea (Ansan near Seoul). The company had roughly 10,000 employees in the financial year 2019/20. For further information please visit www.ats.net

Fauna
Fauna Audio GmbH was founded in 2019 as a subsidiary of USound GmbH with the aim of revolutionizing the world of audio wearables and providing natural, immersive sound experiences using MEMS audio technology. The glasses have been available online and in electronics and optical retailers since the end of 2020 and are currently available across Europe. The product is also expected to be available in the U.S. before the end of the first quarter of 2021. For more info, visit www.wearfauna.com.