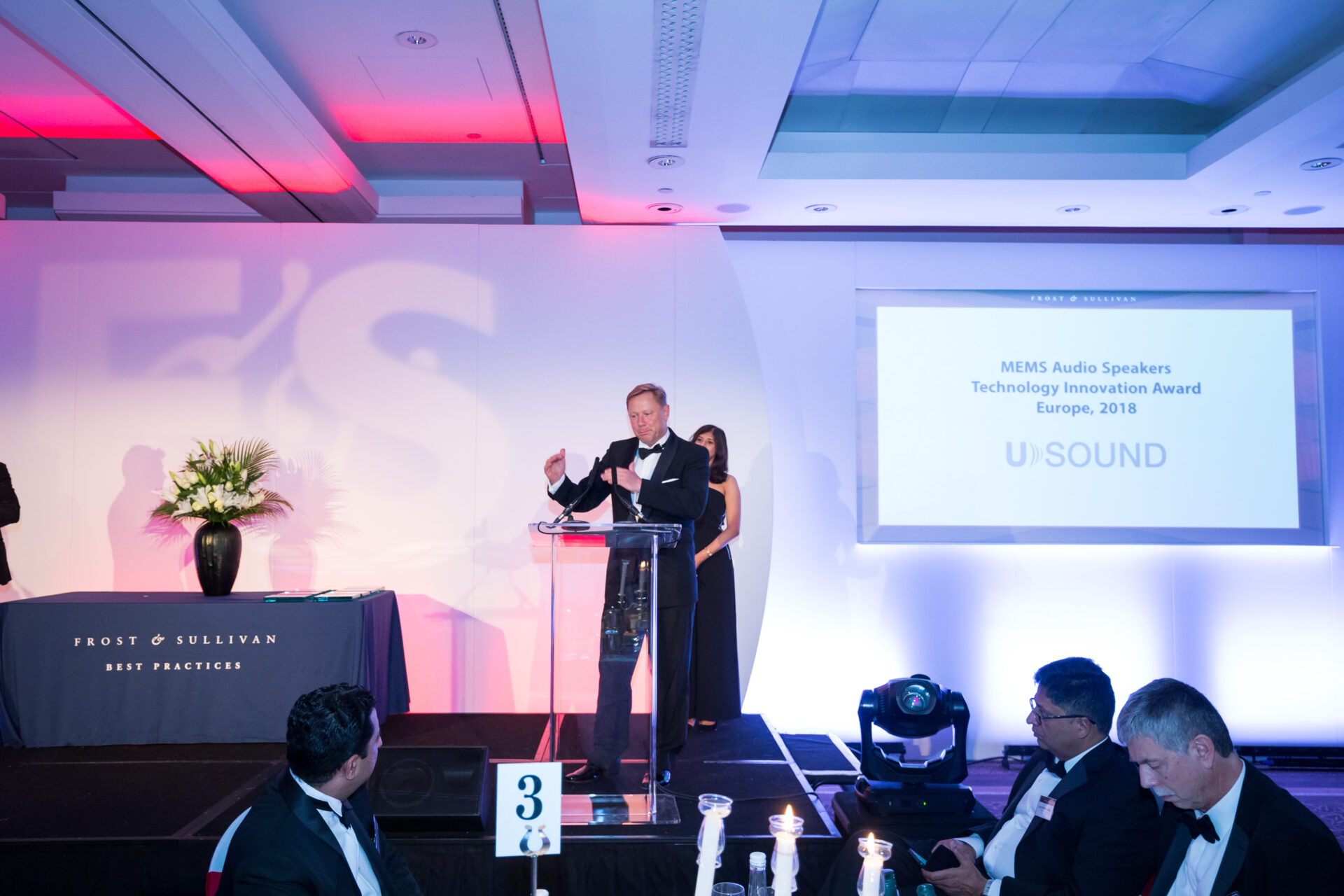 Published:
USound wins Frost & Sullivan European Technology Innovation Award 2018
London/Graz, October 15, 2018: Frost & Sullivan has distinguished Graz-based USound GmbH with the European Technology Innovation Award 2018. This prize was awarded based on an extensive analysis of the loudspeaker market for micro-electro-mechanical systems (MEMS). Current loudspeaker-systems still use the technology invented 140 years ago and patented by Werner von Siemens in the 19th century.
"We believed it was time to create something new", said USound chairman Herbert Gartner at the award ceremony in London. USound's break-through invention in short:
Instead of the electrodynamic principle, USound's products use piezoelectricity. This technology facilitates the development of loudspeakers that are five times smaller than conventional speakers with a size of only 6.7 x 4.7 x 1.6 mm, use 90 per cent less energy and provide 100 per cent better audio quality.
"When these tiny products are intelligently integrated into smartphones and wearables, they produce great sound and enable crazy things like sound beaming. We have basically found the LED technology of acoustics", said Gartner.
MEMS is the rising star of audio technology. With the growing application of speech recognition and artificial intelligence in audio systems, USound steps into a huge worldwide market for intelligent micro-speakers.
"Unlike traditional electro-dynamic speakers that consist of a coil moving within a magnetic field, USound's MEMS speaker consists of PZT actuators surrounded by a membrane and plate," said Sushrutha Sadashiva, research analyst at Frost & Sullivan. "Using multiple cantilevers, a translation action is created that pushes the air to generate sound. This design ensures faster actuation, with a reaction time of a few microseconds, thus resulting in clear sound."
Herbert Gartner: "This award shows that USound has developed a break-through technology with strong competitive advantages. USound is taking the whole audio industry to the next level. We'd like to dedicate this award to our great team of employees as well as our key customers that are bringing our micro audio systems to the market."
Mass production has already started
After a thorough development and testing phase, the technology has just recently been introduced to the market. USound's well-established supply chain enables the production of MEMS audio products in large quantities. Bulk orders from renowned OEMs have already been received by USound and mass production has commenced. With Digi-Key, USound has acquired a prominent international distributing partner and platform.
"Leveraging its audio expertise and portfolio of 130 patents, USound is building the best possible audio systems in the MEMS audio speakers industry, and accelerating their adoption in smart devices worldwide", said Sushrutha Sadashiva.