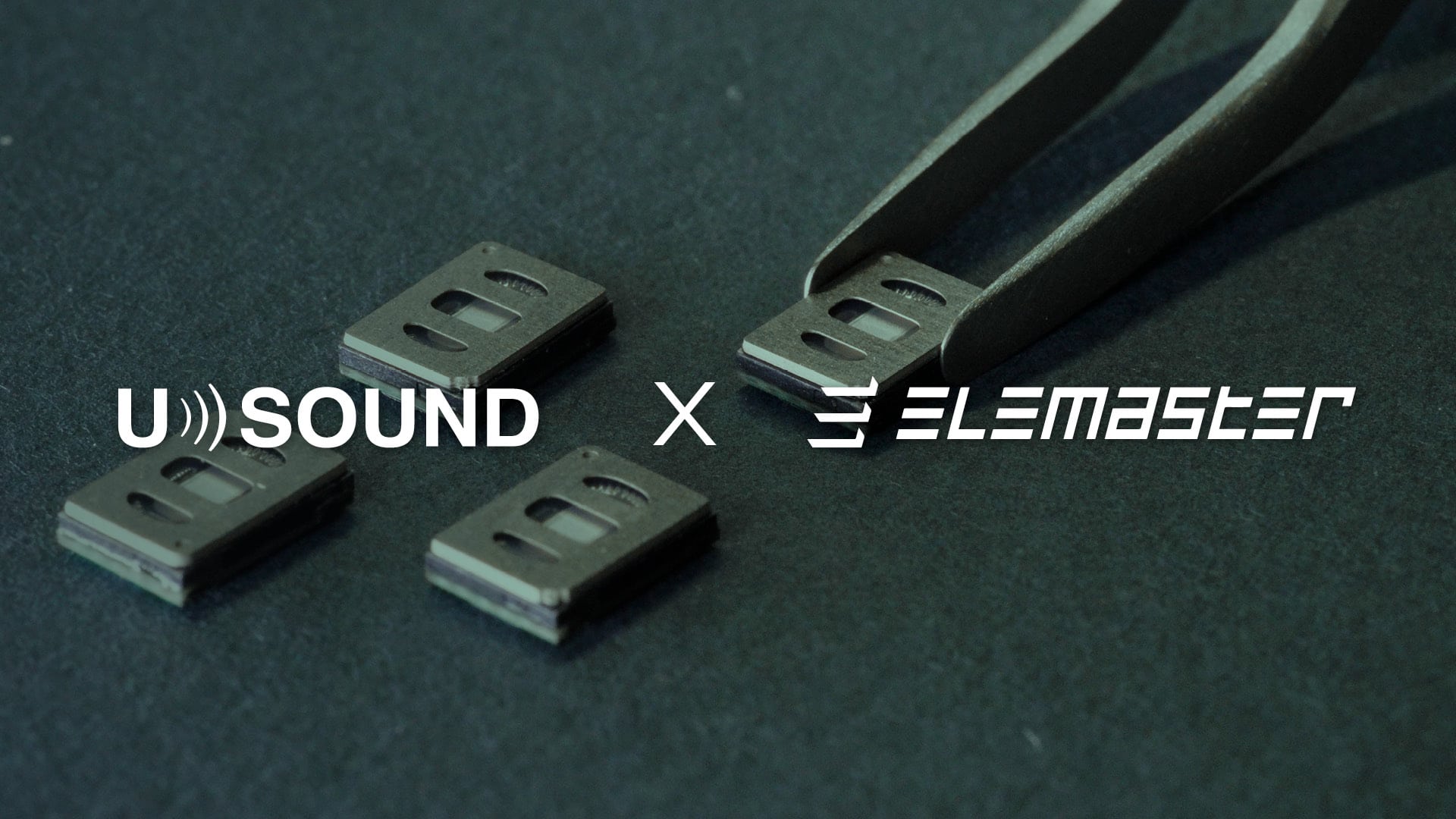 Published:
Made in Europe: USound Starts Manufacturing in Italy in Partnership with Elemaster Electronic Technology
Improved supply chain dynamics accelerate USound's ability to meet the growing demand for MEMS loudspeakers from partners around the globe.
GRAZ, AUSTRIA, February 10, 2022 – USound, developer of advanced audio solutions for personal devices and wearable technology, announced a partnership with Elemaster Electronic Technology to manufacture micro-electro-mechanical systems (MEMS) speakers from its global factory in Lomagna, Italy.
"Elemaster's long track record of producing high-quality electronic products and continuous innovation in engineering motivated us to select them as our partner," said Ferruccio Bottoni, Chief Executive Officer at USound. "We have ambitious plans for USound, and having Elemaster as a partner and together with STMicroelectronics, TSMC, and AT&S, allows us to define our footprint in the audio industry further."
USound is developing and manufacturing MEMS-based audio products for several international companies, including MEMS micro-speakers for global TWS earbud brands, hearing aid companies like Shenzhen Magnet Technology Co., Ltd, augmented reality glasses with MEMS audio for a major technology company, and in-ear health monitors for HMS. USound is also deploying its MEMS speakers in audio glasses like Fauna, a fast-growing consumer fashion technology brand known for being the most stylish audio glasses on the market.
With its advanced sound solution, which combines high-quality audio and flexible design possibilities, USound enables unprecedented industrial and product design possibilities tackling the challenges of many modern audio devices.
USound MEMS loudspeakers take up to 50% less space, use 80% less energy, and boast a greater frequency range than rival speaker products used in earphones, TWS, headphones, smartphones, VR/AR glasses, wearables, and hearing aids. Due to its reduced size, a MEMS speaker also impacts the diameter and weight of any wearable, providing more in-ear comfort and style for the consumer.
"Elemaster is constantly following a technology evolution path in order to always propose a unique value proposition that distinguishes Elemaster from the competition. Understanding the new needs of the market staying very close to our customers is the base to build the future growth of the company," said Giovanni Cogliati, Vice President of Elemaster. "The cooperation with USound is a perfect example of this vision as it allows us to focus our 40 years of experience in the EMS market to the new niche of MEMS manufacturing. The demand for MEMS is constantly growing in the world and many companies are looking for a reliable partner for the manufacturing of these complex devices. Elemaster developed the right skills and made the necessary investments, such as a new plant with a dedicated manufacturing line, a cleanroom class ISO7, and a brand new laser cutting machine for depanelization process, in order to be the top partner for this service. We thank USound team for the trust they gave us and we look forward to supporting their rapid growth within the sector of MEMS speakers."
About USound GmbH
USound is a fast-growing audio company offering high-performance silicon speakers and high-quality sound solutions based on MEMS (Micro-Electro-Mechanical Systems) technology, safeguarded by over 300 filed patents. With its offices in Graz, Vienna, and Shenzhen, USound serves international customers to design smart audio applications with MEMS speakers. Learn more on www.usound.com.
About Elemaster
Since 1978 Elemaster Group is an ODM-EMS European leader in design and supply of electronic boards, complete products, and system solutions for OEM Customers. Present with its EMS facilities in all the continents (Europe, America, Africa, and Asia), Elemaster covers a wide range of sectors, from Railways and Medical to Industrial, Automotive, and Avionics, not to mention most recently high-tech niches such as MEMS manufacturing. Elemaster manages the whole life cycle of Electronics products, from development, co-development, and concept feasibility to fast prototyping, from pre-serial to mass production, creating real turnkey solutions, highly engineered. Thanks to its International Design Centers, located in Italy and Germany, Elemaster does research and develops electronic application technologies in partnership with the major international chipset and components makers, proposing innovative solutions from state of the art to new architectural feasibility studies, generating in this way innovative, reliable, safe, green and cost-competitive products. Learn more on https://www.elemaster.com/en/