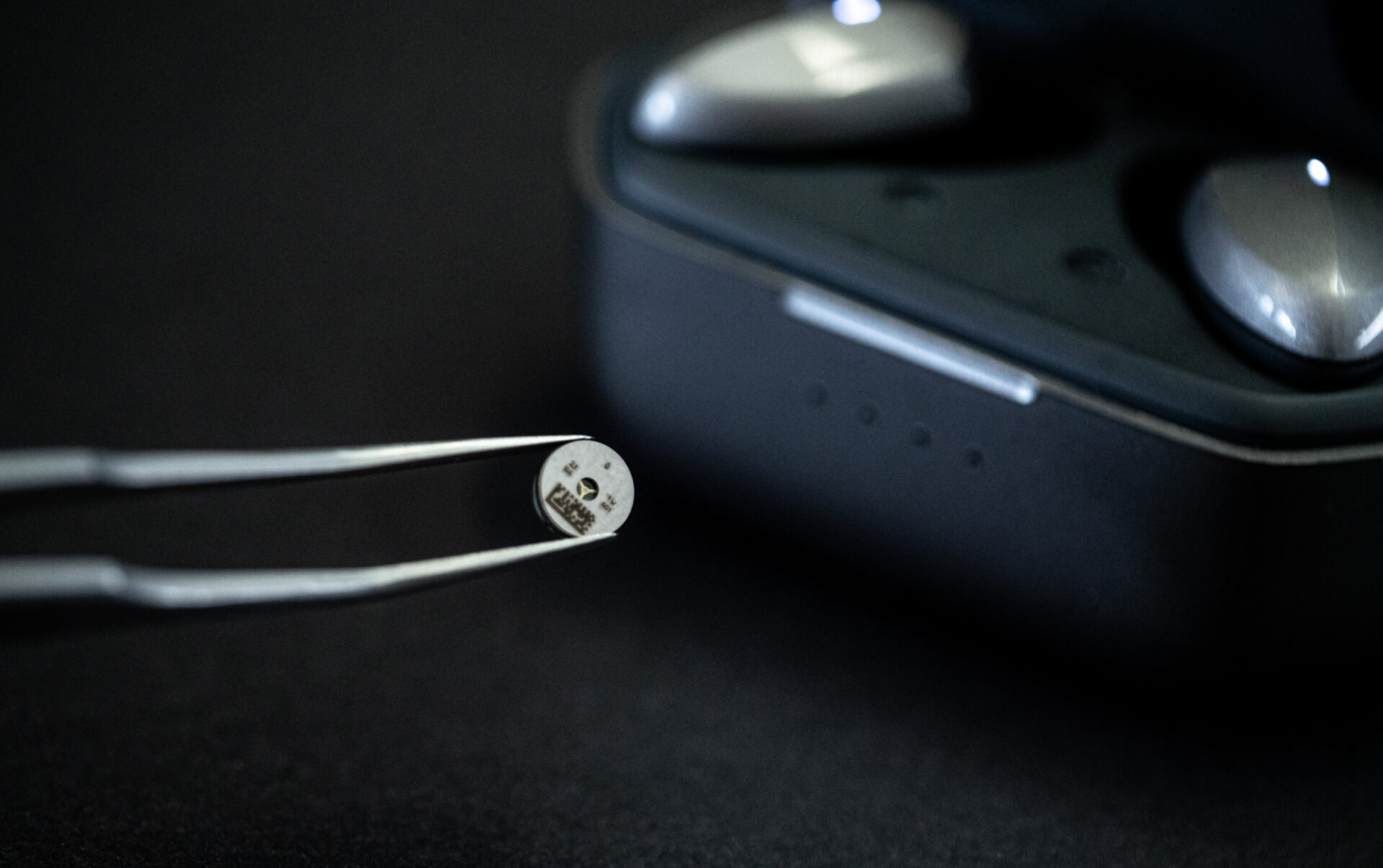 Published:
USound MEMS speakers outperform conventional speaker technologies in TWS applications
In recent years, the popularity of True Wireless Stereo (TWS) earbuds has surged. TWS earbuds have become an essential accessory for many people, including athletes, music lovers, and commuters. With the increasing demand for TWS earbuds, there is a need for high-quality audio components that can deliver exceptional sound performance in a small form factor.
USound MEMS speakers are emerging as the new standard for TWS audio components. In this article, we explore the advantages of USound MEMS speakers over conventional speaker technologies in TWS applications. We specifically examine the advantages of the new Conamara series in its full range (UA-C0601-2F) and tweeter (UA-C0601-2T) versions.
Firstly, their small size and thin form factor make these speakers ideal for mechanical integration into various existing audio devices. Compared to voice coil speakers, MEMS speakers offer up to 75% reduction in volume. Additionally, MEMS speakers can deliver hi-resolution audio with a wide bandwidth of up to 80 kHz, providing clear and precise sound. They also have a competitive power consumption, with current consumption of 0.91 mA (95 dB SPL music signal), which is 50% less than ED loudspeakers. Furthermore, they are IPx8 water-resistant, making them an ideal option for audio devices used in wet environments. Finally, MEMS speakers are solder-reflow compatible, which reduces assembly and production costs by up to 50%. Let's look further at how this relates compared to conventional speakers.
Acoustic
In terms of sound pressure level (SPL), the Conamara full-range speaker has the strongest performance until 12 kHz, making it a perfect fit for typical TWS target curves. Besides that, the Conamara tweeter offers an exceptional treble performance for 2-way systems, surpassing the competition by more than 10 dB SPL in the range of 4 kHz and above. In the following figure the SPL performance is shown and can be compared against typical electrodynamic and balanced armature speakers.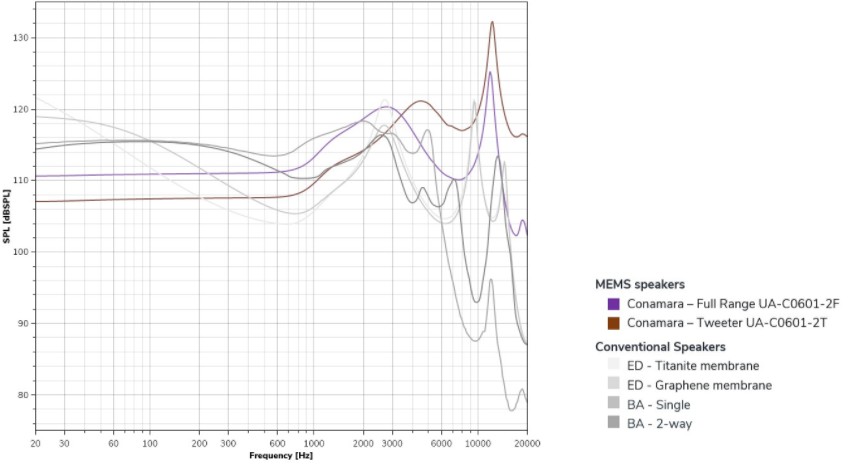 After the SPL performance, let's look at the speaker's linearity, usually quantized in THD; a key selection criterion for speakers. As for total harmonic distortion (THD), the Conamara full range speaker performs excellently, with no more than 0.2% THD until 5 kHz and no annoying spikes. The next graph visualizes how this outperforms the conventional speakers.
Mechanics
USound MEMS speakers are significantly smaller than conventional magnet-based speakers. Even though conventional speakers have roughly a comparable SPL at 1 kHz, their mechanical volume is simply larger than the one of MEMS speakers.
The smaller form factor of the Conamara series speaker has numerous advantages, including lower weight and smaller size, allowing higher flexibility in the product design.


Additionally, USound MEMS speakers are compatible with standard surface mount technology (SMT) reflow soldering processes, allowing for a fully automated pick-and-place assembly process that achieves high quality at up to 50% lower production cost. The reflow capabilities of MEMS speakers also allow for easy integration into existing SMT lines. In contrast, magnet-based speakers cannot be reflow-soldered, as typically the used magnets have a maximum temperature of only around 100°C before they demagnetize. This means thusly equipped earphones need to be assembled at least partially by hand.
Manufacturing
The manufacturing of USound MEMS speakers is fully automated, ensuring high yield and full-scale testing coverage during production. This includes 100% functionality tests (acoustic and electric) and traceability of production lots. Additionally, the temperature and humidity are controlled within the manufacturing environment, and wafer manufacturing occurs in an ISO class 10 clean room. MEMS technology offers high volume scalability, high repeatability, and low part-to-part variations. The USound MEMS speakers have a very low spread of only ±1.3 dB (3 sigma / 99.7% of all parts) up to 10 kHz.
In contrast, conventional speaker manufacturing is typically semi-automated, which typically leads to a spread of +-3 dB in SPL. In applications requiring a strong balance between left-side and right-side devices, conventional speakers are therefore sorted to work around this disadvantage. For MEMS speakers it's not needed.
Conclusion
USound MEMS speakers outperform conventional speaker technologies in TWS applications. The advantages of MEMS speakers include excellent SPL and THD performance, a smaller form factor, SMT reflow capability, and fully automated manufacturing. The full benchmark report is waiting to be shared with you, upon request.
---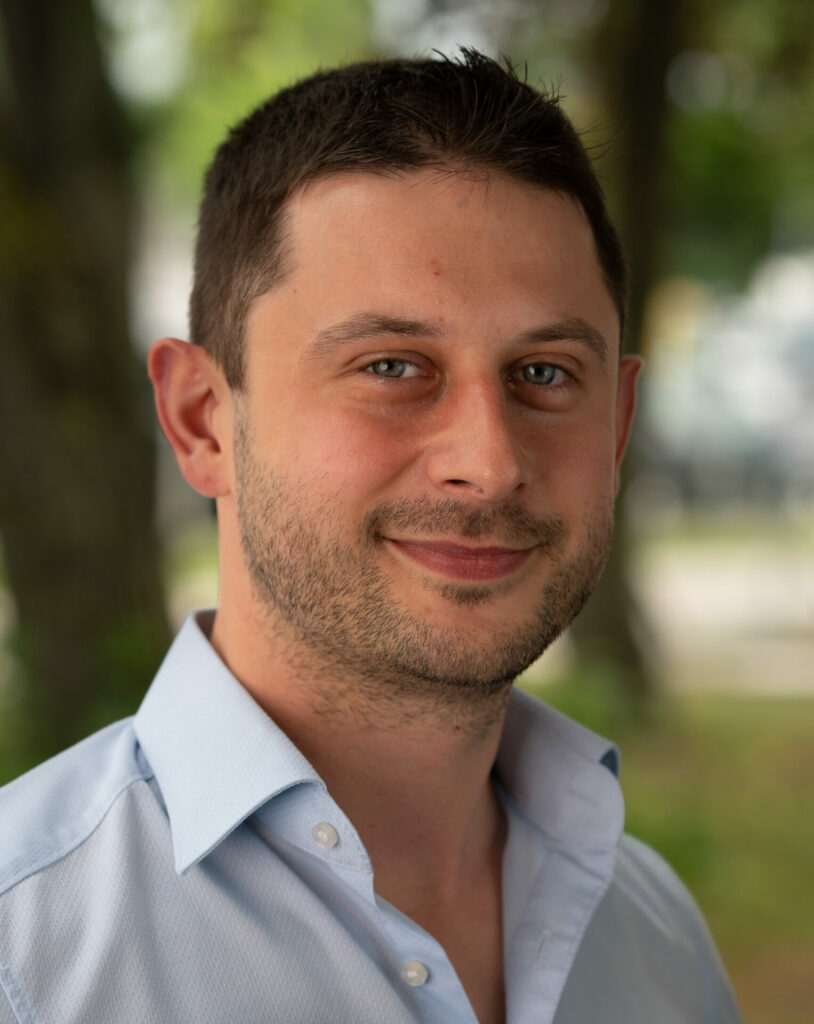 About the Author
USound's broad-knowledge expert on industrialization, development, and application support, Markus Bartek drives USound's innovations, with a background in Electrical engineering and over 10 years' experience in the Audio industry. He has been with USound since 2014. LinkedIn